Intro
Do you just love having honey sticks, but are just struggling, wracking your brain for some recipes? Do you want to make something special for your kids, but don't know of any ideas at the top of your head that you're going to enjoy? Well, then you're in a great amount of luck because we have just the right kind of recipes for you! We're talking about some specially made cornbread, along with some delicious honey cinnamon bars! If you're going to make some honey stick treats then let's take a look at just how you can make them!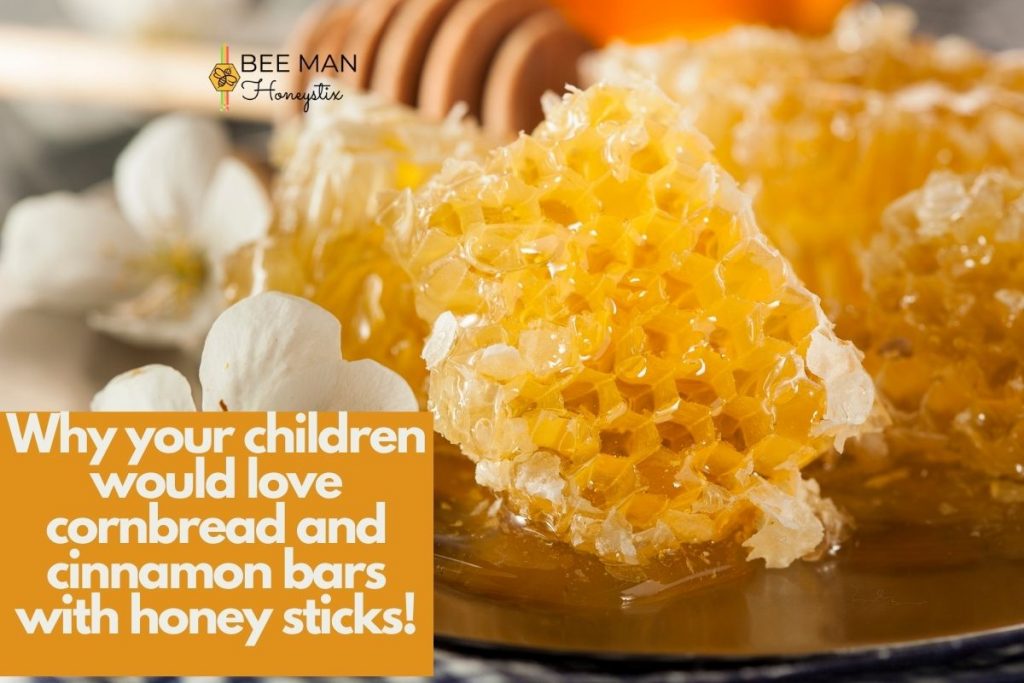 Honey Cornbread
Cornbread is an excellent American staple that can go with many different types of meals that your having and can come in many forms whether it be sweet or savory. Considering we're using honey in the recipe we're obviously going for a sweeter variation of what is available to us. Here's what you'll need to make it:
Ingredients
2 honey sticks
1 cup of whipping cream
1 cup of all-purpose flour
¼ cup of sugar
½ tsp of salt
1 cup of yellow cornmeal
¼ cup of canola oil
2 eggs
3 tsp of baking powder
Instructions
First and foremost you're going to need three main containers. Two mixing bowls and a baking pan to put the finished product. Once both have been acquired, set the oven's temperature 400 degrees. With the bowl, you'll want to pour in the cornmeal, flour, salt, baking powder, and sugar. In the second bowl, put in the eggs and beat them with honey, oil, and cream. Combine both sets of ingredients and mix until they look stable and dry. Finally using the oil or grease-covered baking pan from earlier, pour the combined ingredients into the pan and allow it to bake for around 25 minutes and the finished product should be ready.
Honey cinnamon bars
With an excellent combination of cinnamon and honey, these bars can be an excellent treat for kids looking for a quick bite to eat to pass the time or share with their friends! Here's what you'll need to bring it together.
Ingredients
1 egg
¼ teaspoon salt
1 tsp ground cinnamon
1 cup of chopped walnuts that are toasted
1 cup of sugar
¼ cup of honey
2 cups of flour
¾ cups of canola oil
2 honey sticks
1 tsp of baking soda
Glaze ingredients
Tsp of vanilla extract
1 cup of confectioner sugar
1 tbs of water
2 tbs of mayonnaise
Instructions
Much like the last recipe you're going to need multiple mixing bowls, 3 of them to be exact, and a baking sheet for all of your ingredients. Once all of these have been acquired go ahead and preheat the oven to 350 degrees. After this is done get your first mixing bowl and put in the flour, baking soda, salt, cinnamon sugar, and walnuts. With the second bowl, you will put in the egg, sugar, and oil.
Next, get your baking pan and spread the cooking spray or grease, and bake for about 11 minutes once both ingredients have been combined and put within.
Finally comes the creation of your glaze. With your third and final bowl, you're going to combine all of the ingredients under the glaze tree, and once it has been combined together, you'll want to spread it over the cooled-down surface of your main ingredient in the baking pan. You can even refrigerate it if you want to give it more stability, but you will especially want to do this in order to prevent it from melting overnight. Cut it into bars, and you will have your honey cinnamon bars.
Conclusion
Your kids will definitely enjoy these honey sticks infused with delectable sweet treats! The blend of flavors that it can bring to the table for people to enjoy making these treats is very much worth the effort whenever you're coming up with different goodies for your children to eat.